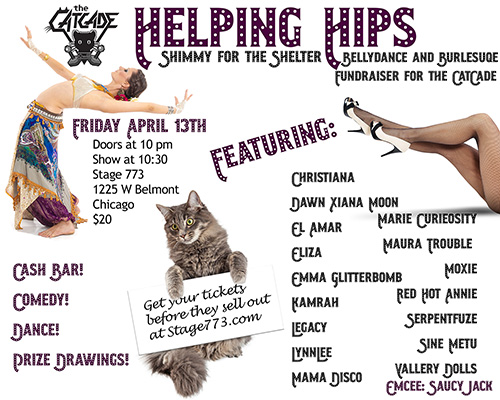 Get your tickets at the Stage 773 website!


For our "ADOPT A DANCER" Fundraiser :
You can contribute to the 4-footed entertainers and snugglers at the Cade by "adopting" a performer or bonded pair. For just $13 for a solo artist, or $20 for a bonded pair, you get your photo taken with the performer during intermission or after the show. If you're not going to be able to attend the show, no worries: we'll take a photo of them holding up a "Hi, [Your Name]" sign. Photos ofd the lucky adopters will also appear in the Catcade's hyperbolic and highly entertaining Insta feed sometime after the show.
No creepy jokes about "taking them home." Just don't. You're above it.


May 12, 2018
The Glint
Chicago (Pilsen) IL
9pm
Fundraiser for cancer! Just $10, tickets at the door
Friday June 29, 2018
Tribal Revolution Gala Show
Wheeling, IL
8pm
$25

See some of the most amazing dancers in the nation at this annual gala festival! Shows Thursday, Friday, and Saturday!